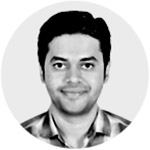 Jaipal Jagatsing Pawar
National Lead, Project Management Office (PMO)


We had implemented the 'TrackWizz CKYC' solution at Bajaj Finance Ltd. in 2017 & we had been relying on the same quite confidently since last 3+ years.

The key strength of the CKYC product is that it's a stable & mature platform with timely updates which are in Sync with the planned rollouts by the regulator (CERSAI). On top of being CKYCR compliant, the product has helped us in building a Digital / Paperless KYC journey during the customer onboarding process for eligible customer base through the implementation of 'Realtime CKYC Search & Download'.

'TSS Consultancy' & their 'TrackWizz CKYC' product along with the subject matter expertise that they bring on to the table, has helped us in being CKYCR compliant as well as materializing the digital KYC onboarding journey for eligible customers.